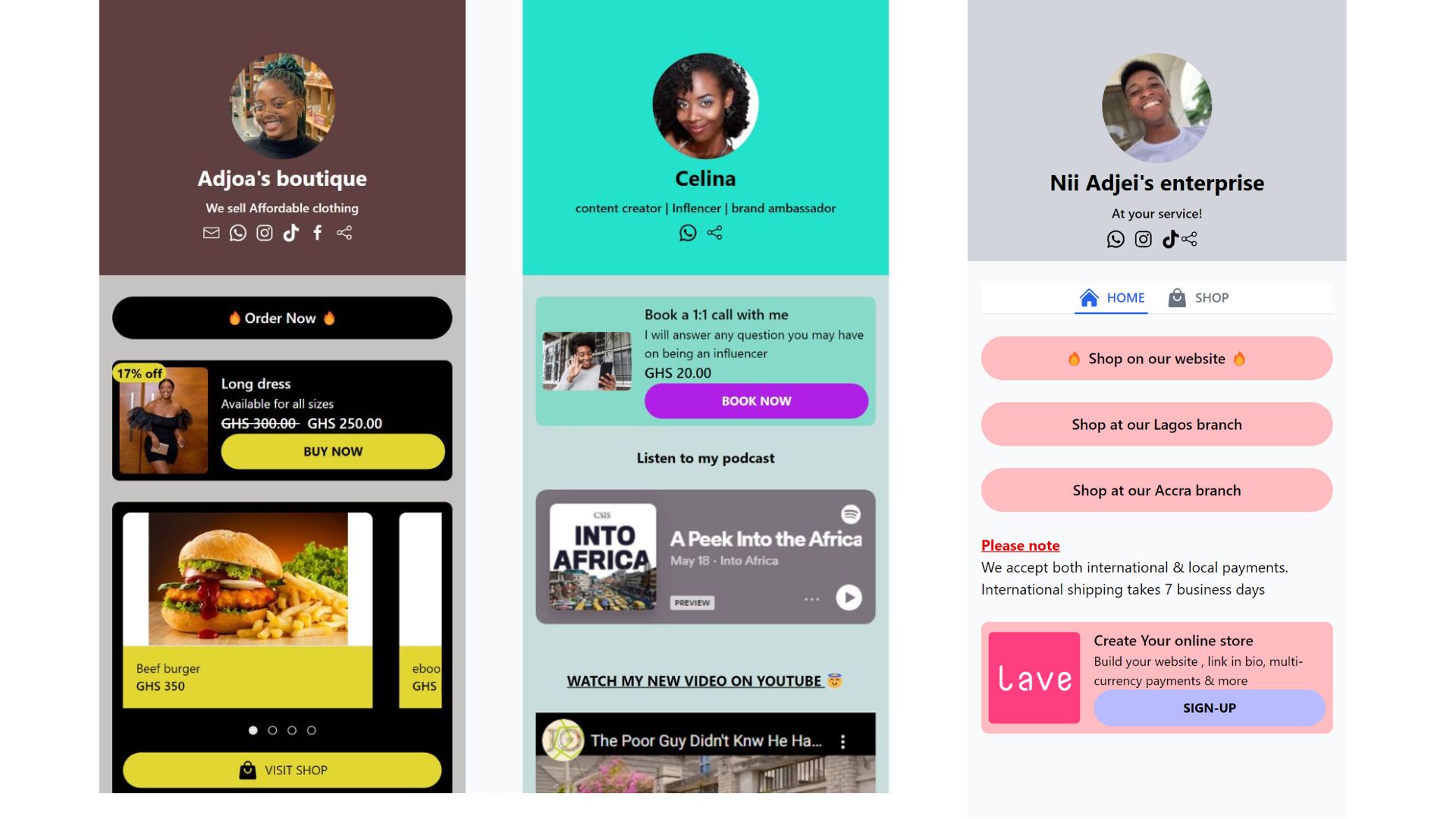 announcement
Lave Major Update (Aug 2023)
written: 24th August 2023, updated 24th August 2023
We Have Upgraded Lave!
Let's dive into the 7 updated features that are going to take your Lave experience to the next level.
1. 🏠 Homepages / Link-in-bio / Landing Pages
You can now create home pages just like any website builder. you can add content like text, images, likes, videos, audios etc. So no need for landing pages , linktrees etc. create beautiful pages . anyone can use it. from content creators, to entrepreneurs. So now you Lave wesite is divided into two :
a.
Your Homepage (Link-in-bio)
: A place to captivate your audience with your unique style.
b. Your Shop: This is where the magic happens – managing orders, handling payments, and growing your business.
2. 💰 Earn 50% Recurring Commission
Lave now pays you 50% of all of our profits on every merchant you bring . You would get 50% on that merchants subscription plan as well as 50% on all their transaction fees on the orders they process with Lave for A FULL YEAR !!!!!!!!!. The best part is if someone joins Lave just by you using your store normally, that also counts as your affiliate. pretty cool right? but if you really want to be wild, post your link every on social media. I know the wild ones would run ads with their links. (Don't crush our servers o 😉).
3. 🤝 Turn Your Customers into Your Sales Team
Merchants can now transform their customers into influencers through the Lave merchant affiliate program. Picture this: your customers become your sales team. Decide how much commission they get for bringing in new customers. They only earn when their referrals result in successful (paid) orders. The best part? We handle all the payment management for you, so you can kick back and relax. Track your top-performing affiliates, monitor sales they've driven, website views – you name it. Imagine the satisfaction of watching your customers bring in new orders effortlessly.
4. 🛍️ Product Update
We have updated our product description. you can now add rich text , include image, change font colors & more. Also you can now hide your stock quantity from your customers. meaning only you the merchant can see your available stock. You can also now sell free products . Go to any product to use these features.
5. 💳 Fixed Failing Transactions
Say goodbye to transaction woes! International card transactions are now back on track. No more currency barriers – charge your customers in any currency you prefer: USD, CAD, GBP, EUR, and more!
6. 💼 Update on Fee Settings
You can no longer pass transaction fees to customers so we recommend marking up your product if the fees affect you that much.
7. 🔗 Subdomain Upgrade
Here's some exciting news for all you subdomain users! You can now remove the 'lave' brand from your link. So, yourbusinessname.lave.live becomes yourbusinessname.oursite.shop – a sleeker and more customized touch. We're beyond excited to witness how you use these amazing features! The possibilities are endless, and your journey with the upgraded Lave is just beginning. 🚀🌟